​
Being a Christian isn't complicated or political; it's simply falling in love with Jesus Christ. We're ordinary people with ordinary lives and ordinary problems, coming together for an extraordinary experience in the presence of the Lord. Just simple faith and trust in Jesus Christ.
Through successes and struggles, we believe in our community.
​
No magic answers. No secret formulas.
Join us in a diverse environment experience for those who simply want to worship, learn, and know more about Christ.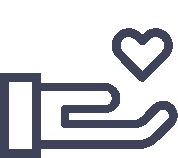 "Whoever is generous to the poor lends to the lord, and he will repay him for his deed."